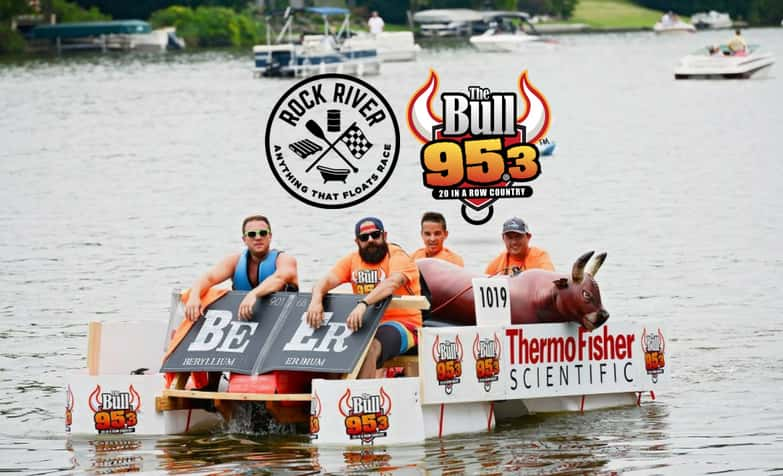 The Rock River Anything That Floats Race has finalized and announced the 2019 race date: Sunday, August 18, 2019. Registration for the event begins Thursday, January 17 at 1:30 P.M. at the official race website, RRATFR.com!
From the race officials:
"2019's race will once again feature our traditional DIY Division as well as the new Hulled Division. In the Hulled Division, participants can use and decorate hulled craft in any way they wish: to create a raft or just decorate a boat, kayak, canoe, standup paddle board in any way their imaginations take them. Hulled craft will compete against each other for speed in their own division and against DIY made-from-scratch rafts in the Frank Schier Creativity and Design Award (Judges Choice) as well as the People's Choice categories, featuring a newly-designed online voting tool. Please remember, NO MOTORS ALLOWED – human power only.
New this year, we are excited to announce a new partnership with Rocktown Adventures, a local outdoor retail and rental shop located on Madison St. right across from our Prairie Street Brewing Co. finish line. This partnership will allow folks to rent a canoe, kayak or standup paddleboard for a fee on race day and get transportation to the start line from Rocktown Adventures. Please contact Rocktown Adventures for details. No excuses not to participate! Details will be provided at the press conference and online.
Tentative Partial Race Day Schedule
Sunday, August 18
12:00 Noon Raft Race Begins
3:30 p.m. Duck Drop
4:30 p.m. Awards Ceremony"
For more on this year's rules and regs, and to register, head to the official race website HERE for the most up-to-date info!
---
Photos: 95.3 The Bull / Thermo Fisher Scientific Anything That Floats Race Day