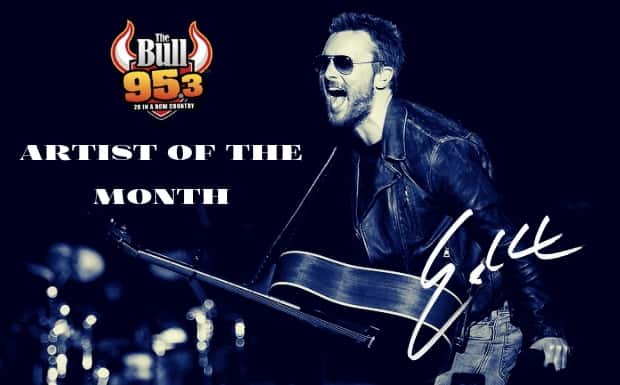 March is here! And that means Eric Church's Double Down tour is almost here! How much do you know about "The Chief"?  Bet you didn't know he has a line of furniture…
Kenneth Eric Church was born on May 3, 1977 in Granite Falls, North Carolina to Ken and Rita Church. Church worked with his father at Clayton Marcus, a furniture upholstery company where his father was president. At 13, he bought a guitar and began writing songs of his own. By his senior year of high school, he had found a gig at a local bar, which occupied most of his time. He played many Jimmy Buffett cover songs and a few of his own original songs in some dive bars. Some of these places were so rough that he got into a few altercations from the stage. For a few years, the band played often in bars and restaurants throughout North Carolina. The band "Mountain Boys" consisted of his college roommate, brother, and a fellow guitarist.
Before moving to Nashville, Eric graduated from South Caldwell High School and then Appalachian State University with a degree in marketing. Upon graduation, Church became engaged to a Spanish teacher in the town of Lenoir, North Carolina. The future bride's father attempted to persuade Eric into a corporate career, which he rejected as an aspiring musician. She broke the engagement and he headed to Nashville with his father's financial backing. His father also provided the opportunity to make contacts, and more importantly, time to focus on developing his songwriting ability.
Eric's style has been described as country rock, outlaw country, and southern rock. Church's influences include Hank Williams Jr., Merle Haggard, Little Feat, The Band, Kris Kristofferson, Ray Wylie Hubbard and Waylon Jennings. Eric has also claimed that many hard rock and heavy metal bands influenced his music, including Metallica, Pantera, and AC/DC.
Church wears his signature aviator sunglasses as a result of wearing contact lenses. When his career was getting started, he was forced to deal with the heat from the stage lights drying out his contacts. As he began performing in larger venues, his aviators and Von Dutch denim trucker hat became his trademark.
Church has become an avid advocate for the use of cannabis, reflected in songs such as "Smoke a Little Smoke"; at the time of that song's release, Church's record label urged him not to release the song, though it became a minor success as a single. Church has also referenced marijuana use in other songs like "The Joint" and "I'm Gettin' Stoned", and has even been the subject of a marijuana joke at the 49th ACM Awards where Blake Shelton and Luke Bryan referred to Eric Church as the Willie Nelson for the new-country generation and compared Eric Church's dressing room to a cannabis dispensary.
The Chief Cares Fund is a foundation organized by Eric and Katherine Church in 2013. The non-profit organization has been used to help underprivileged families in Tennessee, North Carolina, and even as far as helping orphans in Nepal receive clothing, proper bedding, and schooling. The foundation has also delivered Bibles to Haiti and helps fund Humane Society no-kill animal shelters. People can donate to the foundation on Eric Church's website by simply donating or by purchasing exclusive Chief Cares Platinum Tickets to his concerts where money from the tickets go to the Chief Cares Fund.
Still need tickets to Eric's Double Down Tour at the Allstate? CLICK HERE to pick out a date to see the show…it is TWO shows after all…
Round out that collection of Church music and make sure you got your Church clothes ready to go by visiting the Chief Merch store HERE
Eric even has branched out into desgining furniture for your home…CRAZY! Check out the "Highway to Home" collection HERE