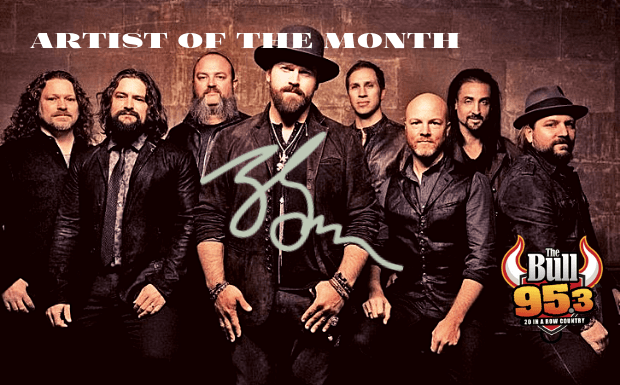 Zac Brown Band will be playing all over this summer and we're giving you a pair of tickets to the show! But, how much do you really know about the man equally at home in the Georgia pines as he is knee deep on the beach?
Zac Brown Band is an American country band based in Atlanta, Georgia. The lineup consists of Zachary Alexander "Zac" Brown (born July 31, 1978) (lead vocals, guitar), Jimmy De Martini (born August 3, 1976) (fiddle, vocals), John Driskell Hopkins (born May 3, 1971) (bass guitar, guitar, baritone guitar, banjo, ukulele, upright bass, vocals[3]), Coy Bowles (born February 20, 1979) (guitar, keyboards), Chris Fryar (born November 22, 1970) (drums), Clay Cook (born April 20, 1978) (guitar, keyboards, mandolin, steel guitar, vocals), Matt Mangano (born May 12, 1976) (bass guitar), and Daniel de los Reyes (born July 18, 1962) (percussion).
The band has released six studio albums along with two live albums, one greatest-hits album, and two extended plays. They have also charted sixteen singles on the Billboard Hot Country Songs or Country Airplay chart, of which thirteen have reached number 1.
Frequently pushing their boundries musically they've collaborated with a wide array of other musicians including Alan Jackson, Jimmy Buffett, Kid Rock, Amos Lee, String Cheese Incident, Trombone Shorty, Joey + Rory, Jason Mraz, Dave Grohl, Chris Cornell, and Avicii.
Zachary Alexander Brown was raised on Lake Lanier by his mother, Bettye, and stepfather Dr. Jody Moses, a dentist in Cumming, Georgia. The 11th of 12 children, Brown was given his mother's guitar at age 8, and one of his stepfather's patients was enlisted to teach him classical guitar. He completed two years of lessons, but soon after developed a love for bluegrass music while playing with his father and brother on weekend visits. In his mid-teens, Brown spent almost a year being tutored by a vocal coach from his church in Cumming.
While still in high school, with James Taylor as his inspiration, Brown began playing solo gigs in local venues, performing country and pop cover songs. By the age of 19, he began touring the Southeast of the U.S. with a drummer and his dog, Pete, laying the foundation of what became the Zac Brown Band nine years later.
Zac Brown Band's debut single, "Chicken Fried", was originally recorded in 2003 and included on the Home Grown album, but later re-recorded and released to country radio in 2008. This song was also recorded by The Lost Trailers, whose 2006 recording was released as a single but withdrawn after Brown decided that he wanted to release it himself. Brown described hearing his song on the radio: "The first time I hear 'Chicken Fried' on the radio and it wasn't us singing it. It was a nightmare." Brown then called his lawyer to have the song pulled from the radio immediately. Brown's lawyer warned him that because of Galante's power in the Nashville music scene that pulling the song could essentially have him blackballed in Nashville. Brown was insistent that his agreement with the Lost Trailers was violated, so his lawyer issued a cease and desist letter and the single was pulled from the radio.
Since 2009, the Zac Brown Band has earned 55 award nominations from the Grammys, Academy of Country Music, American Music Awards, Country Music Association and Country Music Television, and has won 8.
Zac Brown is the founder of Camp Southern Ground, a 501c3 non-profit camp in Fayetteville, Georgia. A former camp counselor, Zac believes that the camp experience can transform a child's life. The band has also supported Little Kids Rock, a national nonprofit that works to restore and revitalize music education programs in disadvantaged U.S. public schools, by donating items for auction to raise money for the organization.
Become an even bigger Zac fan by visiting the band online HERE
You can even purchase a ZBB Adult Coloring Book HERE
OH! And check out the latest single from Zac Brown Band…
Didn't see your favorite ZBB Music Video? CLICK HERE
Now, let's get you those tickets! Sign-up below to win a pair of tickets to catch ZBB this June at the Hollywood Casino Amphitheater!