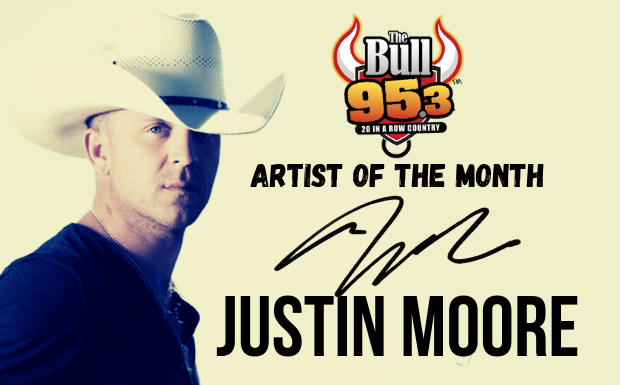 Just a kid from Small Town USA, and an avid Razorbacks fan Justin Moore is our Artist of the Month for June. Wanna know how he learned to "Bait a Hook" and win some tickets?
Keep reading to find out how you can get in to see Justin at Old Settlers Days June 15th!
Justin Cole Moore was born March 30, 1984 in Poyen, Arkansas and began performing during his junior year of high school. After graduating, moved to Nashville and in 2002 he met a young producer who introduced him to Scott Borchetta, an industry executive who was planning to launch The Valory Music Co. Borchetta promised to give him a record deal if he would be patient
Moore signed to the Valory Music Group, an imprint of the independent record label Big Machine Records. The label then released his first radio single, "Back That Thing Up", co-written by Randy Houser and Moore's producer, Jeremy Stover. He continued working on his debut album, placing his music on social networking sites such as MySpace. His next single, "Small Town USA", entered the charts in February 2009, and on August 11, the label released his self-titled debut album, on which he co-wrote nine of the ten tracks. This album debuted at No. 3 on the Top Country Albums chart. He promoted the single and album on a "Small Town USA" tour which began in his hometown of Poyen, Arkansas and included several stops in small towns, as well as acoustic shows at Walmart stores.
"Backwoods" was released as the album's third single in October 2009. It became his second Top 10 hit with a peak of No. 6 in April 2010. The album's fourth single, "How I Got to Be This Way", reached Top 20. In February 2011, he released the song "If Heaven Wasn't So Far Away", the song became his third Top 10 hit on that chart and three weeks later, it became his second Number One. The song serves as the lead-off single to his 2011 album Outlaws Like Me, which was released on June 21, 2011. Follow-up singles "Bait a Hook" and "Til My Last Day" both broke the Top 20; the latter reached Number One on the Country Airplay chart.
In December 2012, Moore entered the studio to begin recording his third studio album. The album's first single, "Point at You", was released on March 18, 2013. The album, entitled Off the Beaten Path, was released on September 17, 2013 and the album's second single, "Lettin' the Night Roll", was released on October 21, 2013, and became his fourth number one single.
Moore's fourth album, Kinda Don't Care, was released in August 2016. Its lead single is "You Look Like I Need a Drink", which became another No. 1 single on the Country Airplay charts in late 2016.
Moore announced his fifth album, Late Nights and Longnecks, will be July 26th. You can actually Pre-Order it right HERE
An avid hunter and gun rights activist keep up to date with what Justin is up to by clicking HERE
We've all seen coozies before but one made of burlap? That's new…check it out HERE
Didn't see your favorite Justin Moore music video? Check out the full playlist.
Ok…let's get you squared away with tickets to see Justin Moore at Old Settlers Days below!