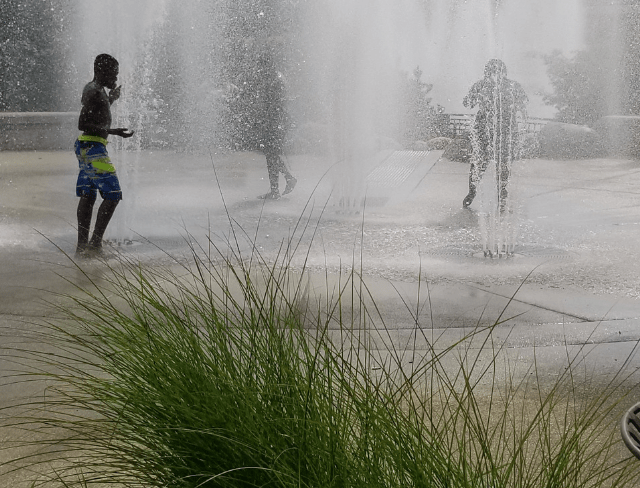 On another hot, humid summer day, I stumbled upon a crowd of kids – and some adults – having the time of their lives cooling off in Millennium Fountain along the Rock River in downtown Rockford.
You couldn't help but smile listening to them giggle, laugh and squeal. It brought back great childhood memories of running through the sprinkler for hours on end – or even better – the fire department's annual flushing of the mains.
There are lots of ways to stay cool for free this summer. The Rockford Park District offers 10 different spray pads where you can cool off with the push of a button between 1 p.m. and 8 p.m., now through Labor Day.
Beattie Playground (1251 Rural Street, Rockford, IL)
Bloom School Playground (2901 Pelham Road, Rockford, IL)
Brown Park (2010 North Main Street, Rockford, IL)
Churchill Park (2002 7th Avenue, Rockford, IL)
Harmon Park (1924 East Gate Parkway, Rockford, IL)
Keye-Mallquist Park (1702 11th Street, Rockford, IL)
Liberty Park (1555 Morgan Street, Rockford, IL)
Mandeville Park (650 Montague Road, Rockford, IL)
S. Henrietta Park (527 S. Henrietta Street, Rockford, IL)
Washington Park (3617 Delaware Street, Rockford, IL)
They also have two spray pad locations that are activated based on the heat index:
Blackhawk Park (101 15th Avenue, Rockford, IL)
Dahlquist Park (3251 Oak Grove Avenue, Rockford, IL)
There are also two other "spraygrounds" in the Stateline area:
Doty Park Sprayground (365 W Locust St, Belvidere, IL) Open from 11 a.m. – 8 p.m. (weather permitting) and is free.
Palmer Park Wading Pool (2400 Palmer Drive, Janesville, WI) Wading pool is open daily from noon – 7 p.m. and is $1 per child, or you may purchase a season pass for $5.
Pack up the towel, snacks, kids – and enjoy some cool, wet fun this summer. The kids will think you're awesome, and you'll rediscover how awesome it is to feel like a kid again!