(Video courtesy of Rush Production Group)
The generosity of the Stateline area and 95.3 The Bull listeners has saved a life this holiday season.
Navy veteran, Rachel Schultz of Harvard, was in search of a kidney after being diagnosed with an incurable kidney disease that eventually required her to receive daily kidney dialysis to filter the blood that her kidneys could no longer do. "When your kidneys fail, dialysis is the main thing that keeps you alive…you're always tired, you're always exhausted and there's other side effects such as, some people call it, 'dialysis brain' where your memory is very fuzzy " she told Steve Summers of 95.3 The Bull (full podcast below).
So, she took her need for a new kidney into her hands and became her own advocate after attending a conference in Chicago. There she learned that a great deal of success stories come from getting the word out yourself – so she started her campaign with flyers, t-shirts, and posters, her own website and in July 2019,  wrote a letter to 95.3 The Bull looking to connect with listeners in the area. It was that note to the radio station that would end up being the last effort she'd need to make in her search, as her living donor was only a few counties away!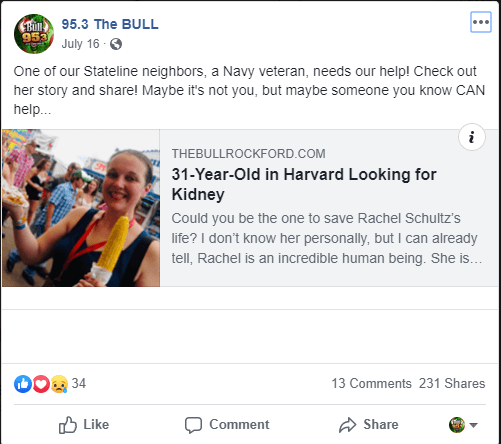 Lakemoor, Illinois, police officer Nicole Gaborek was scrolling Facebook late one night on her break and came across 95.3 The Bull's plea to help a veteran in need and that's all it took. The first responder told Rush Hospital: "My dad is a fireman and I'm a police officer. I've been around (first responders) my whole life. The ones who really love the job seem to have this deep drive to help people — to the point of risking their lives daily."
Nicole was quickly confirmed as a match by Rush Hospital and the successful transplant took place earlier this month, with both women now home from the hospital and doing well.
Hear Rachel's full story in her chat with Steve Summers & Gordon Mays below…