If you're a guy and you live alone, chances are you eat your fair share of frozen pizza. It's the perfect bachelor food. It's quick, easy and all you have to do is throw it in the oven and you've got dinner.
However, sometimes it can cause a mess in your oven if your cook your pizza directly on the rack. Sure you can use a pan but to get that crispy crust, your best bet is to put it right on the rack. So how do you stop all that cheese from dripping down to the bottom the of the oven?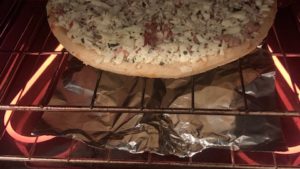 HACK: Place your pizza on the top rack of the oven and put a piece of tin foil on the bottom rack to catch all the extra cheese and toppings that tend to drip off while cooking. Then just take the foil and throw it away. Boom! No messy oven to clean up later!