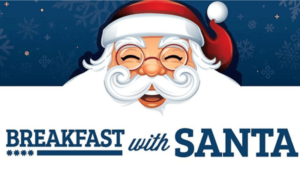 With COVID throwing a wrench in our plans for most of 2020, Perfectly Seasoned Catering in Roscoe wanted to make sure the kiddos don't miss an important childhood memory! They're spreading joy this Holiday season by hosting you and your loved ones for a private breakfast with Santa! The event runs every Saturday starting November 21 through December 19.
Your Private Breakfast Will Include:
– 3 digit copies of photos with Santa (emailed after your event).
– 1 hour time slot to enjoy a family style breakfast and meeting with Santa.
– COVID friendly location in a private room, fully cleaned and sanitized between groups.
– Goodie bag for each child.
– and memories that last a LIFETIME!
Family Style Breakfast Includes:
– Scrambled Eggs
– Bacon and Sausage Links
– Belgium Waffles
– Choice of Toast or Buttermilk Biscuits
– Choice of Potato: Cheesy, Hash Brown, or Home Fried
– Beverages: Water, Milk, Chocolate, Milk, OJ, and Coffee
– Adult Beverages Available for purchase: Mrs. Claus' Mimosa, Santa's Bloody Mary, and The Elves French Toast Martini
ADDITIONAL DETAILS AND PRICING:
Reservations required in advance and additional dates/times may be added based on demand. Minimum group size of 5 and maximum group size of 8 per time slot. For available dates and pricing, call or email directly. 815-242-7744 or info@perfectlyseasonedcatering.com
TICKET PRICING:
– Ages 2-Under: Free
– Ages 3-8: $15
– Ages 9-13: $25
– Ages 14 – Adult: $35
Click below to check out the Facebook event…