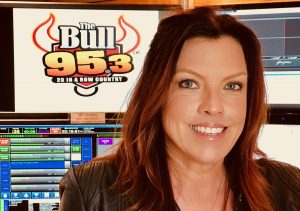 Workin' all day without country music? Well, that seems cruel. Erin Carman gets ya through it.
Every day is an adventure!!!
I grew up in a small town in Ohio, loving weekend bonfires, riding horses, and learning to drive in a Toyota 4×4 (stick shift, of course!). But with my desire to be in the music biz and to marry Prince one day, (crushed when he died!) I was big city bound! I found my passion in radio and television, worked from LA to DC and eventually, landed in the city I could never leave, sweet home Chicago!!!!
I've had an amazing career, meeting everyone from Aerosmith and Kid Rock, to Ben Affleck (wearing a very bad hairpiece! True!) and Morgan Freeman (commented on my "décolletage"! True, but not offended!)
But NOTHING compares to the birth of my son!! On November 4, 2013, I started seeing life in color, instead of black and white.
Now this hard rockin' radio chick is a pre-K Room Parent! Yeah. It makes my family laugh too!!!!
Pumped to be working in Rockford, at a GREAT station with kick-ass people!!!! From bonfires, to Cubs games, this country/city girl has the best of both worlds!!!!
The Adventure continues…….