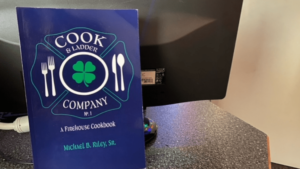 Firefighter's put out fires. That's what they do. Retired fireman Michael B. Riley Sr. not only spent his career putting out fires, He also put out a cook book!
Cook & Ladder Company No.1 – A FireHouse Cookbook is a collection of recipes Mike served up to his fellow firefighters as he was the firehouse's designated cook. It's got everything thing from chicken and steak recipes to pizza, pork, pasta and even dips and desserts!
It available right now on Amazon. Go pick one up and cook like a Rockford Firefighter!