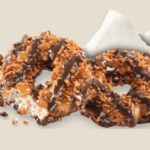 From February 26 through March 21, Girl Scouts of Northern Illinois (GSNI) will support the world's strongest and youngest female entrepreneurs as they host Girl Scout Cookie booths in innovative ways during a worldwide pandemic. Girls, their families, and their troops can choose from a variety of cookie booth options to connect with cookie customers.
For those who prefer contactless cookie sales and delivery, girls and troops can market virtual cookie booths where customers order cookies directly through a girl's cookie business website and have cookies shipped to their homes. If girls want to remain local and still connect in-person with customers, families may host pop-up cookie booths at the end of their driveway or block.
New this year, Girl Scouts has partnered with Grubhub for Girl Scout Cookie booths! Girls Scouts, in grades 4 through 12, will get hands-on experience in handling e-commerce while they fill orders and manage inventory. Grubhub cookies booths will be available on weekends from February 26 through March 21, from the organization's Resource Centers in Lake Zurich, Oswego, Rockford, and South Elgin. On Grubhub weekends, customers can order Girl Scout Cookies at https://www.grubhub.com/food/girl_scouts.
Girls can also participate in traditional, in-person cookie booth sales held at community locations outside local businesses and stores. Interested customers can download the Cookie Finder App for Android and iOS systems on their device's app store. Cookie Finder directs consumers to in-person cookie booths closest to them. Girl Scouts staffing in-person cookie booths will abide by COVID health guidelines, including wearing a mask and social distancing as appropriate.
This year's delicious cookie lineup features refreshing Thin Mints (vegan!), caramel-y Samoas, peanut butter-stuffed Tagalongs, crunchy Do-si-dos, buttery Trefoils, sweet S'mores, tart Lemon-Ups, and toffee-chipped Toffee-tastics (gluten free!). All Girl Scout Cookies are on sale for only $5 per package!
Don't know a Girl Scout? Customers may visit www.girlscoutsni.org/buycookies to purchase cookies directly or be connected to a local Girl Scout entrepreneur looking for cookie customers!
During Girl Scout Cookie season, each local Girl Scout sets out to sell delectable cookies while also building entrepreneurial and business skills imperative for leadership and future success. All the net revenue raised—100 percent of it—stays within our northern Illinois area.
Girl Scouts of Northern Illinois uses cookie earnings to power amazing experiences for girls through their programming, while girls and their troops decide how to invest in impactful community projects, personal enrichment opportunities, and more. Skills girls learn in the cookie program also influence later success as data shows more than half (57 percent) of Girl Scout alumnae in business say the cookie program was beneficial to skills they possess today, such as money management, goal-setting, and public speaking.