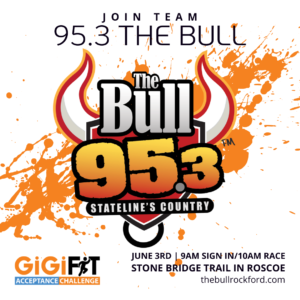 Hey y'all! The Morning Stampede is forming a team to participate in the GiGi's Playhouse Acceptance Challenge 2023 on June 3rd at Stone Bridge Trail in Roscoe!
GiGi's Playhouse in Rockford is committed to life-long care for individuals with Down Syndrome. From prenatal diagnosis to career skills, GiGi's Playhouse commits to never leaving that individuals side.
The Challenge includes walking or running a 5K (about 3 miles) or walking a mile and raising money to support the programing that GiGi's runs.  It involves a small sign-up fee to participate that counts as a donation. If you can't join or are unable to walk the full distance, donations can be made on your behalf!
Our goal is to raise $9,530 for the June 3rd event!
Here's how to help:
1. Head to https://support.gigisplayhouse.org/gigifit-acceptance-challenge-2023/team/953-the-bull and sign up with Team 95.3 The Bull.
2. Your race signup will count as a donation, but if you can join us and you'd still like to donate or you'd like to add to your donation you can add that there, too!
Information on the Race