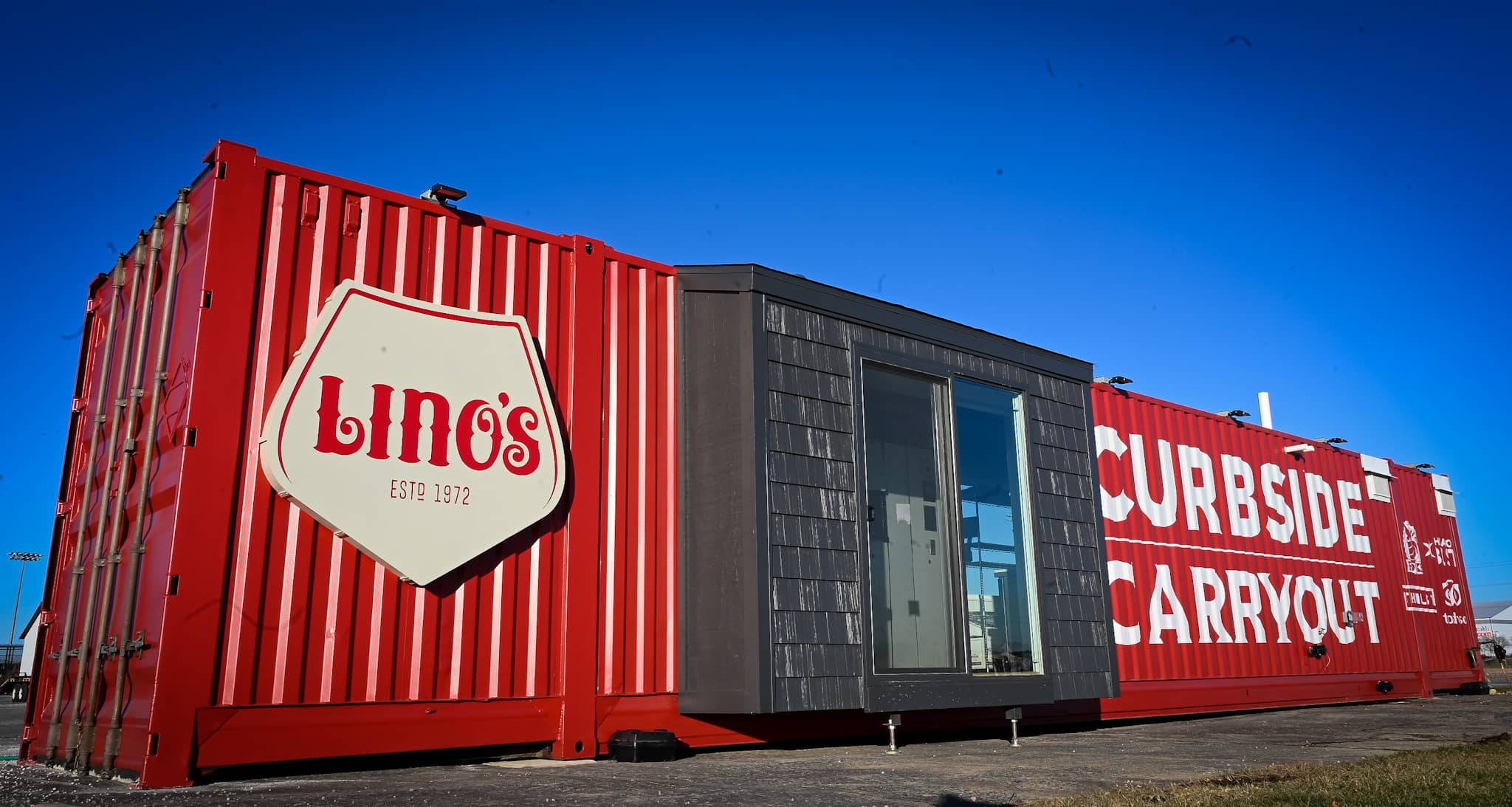 LOVES PARK — The look of Lino's second location is a departure from the grand decor of its original Rockford restaurant, which famously features a replica of the Leaning Tower of Pisa inside.
But inside the 53-foot-long red shipping container on Riverside Boulevard is the same "secret sauce"— as Charlie Schweinler puts it — that has made the Italian restaurant a popular destination in Rockford for five decades.
The family-owned eatery located and reassembled the parts of a Fauld's oven, a manufacturer that was famous for its ferris-wheel like rotating trays in Chicago pizza places before going out of business in the mid-1980s. Two of those ovens are inside the original Lino's at 5611 E. State St. in Rockford.
"They're kind of like collector cars. If you find one, it's worth absolutely nothing because it actually would cost you more money to put it together than just buying a new oven," said Schweinler, part of the third generation of family running Lino's.
"But we feel like it's a part of who we are and what makes the pizza the pizza," he said. "We basically took this thing that was in a million pieces and pieced it all back together.
"It's an antique and an absolute workhorse."
Lino's quietly opened its second location — and first in Loves Park — over the weekend. The new curbside-only restaurant sits on land Lino's owns at 8410 E. Riverside Blvd. near the Mercyhealth Sportscore Two Indoor Sports Center.
The family had considered building a brick-and-mortar restaurant on the site, but Schweinler opted for this route after construction costs skyrocketed with inflation. Pop-up or container restaurants have been used in various capacities around the country. This was Lino's take on the practice.
"I've seen houses and offices and things like that, and there have been a few restaurants here and there, but not to the extent that this is," Schweinler said.
The container is 8-and-a-half feet wide. Aside from the red color, large doors and windows and Lino's moniker, it looks like any large container you'd see on the back of a semi-trailer.
"It's the maximum we could get to get it on to the road," Schweinler said. "It's unofficially tied for the largest food truck in the world."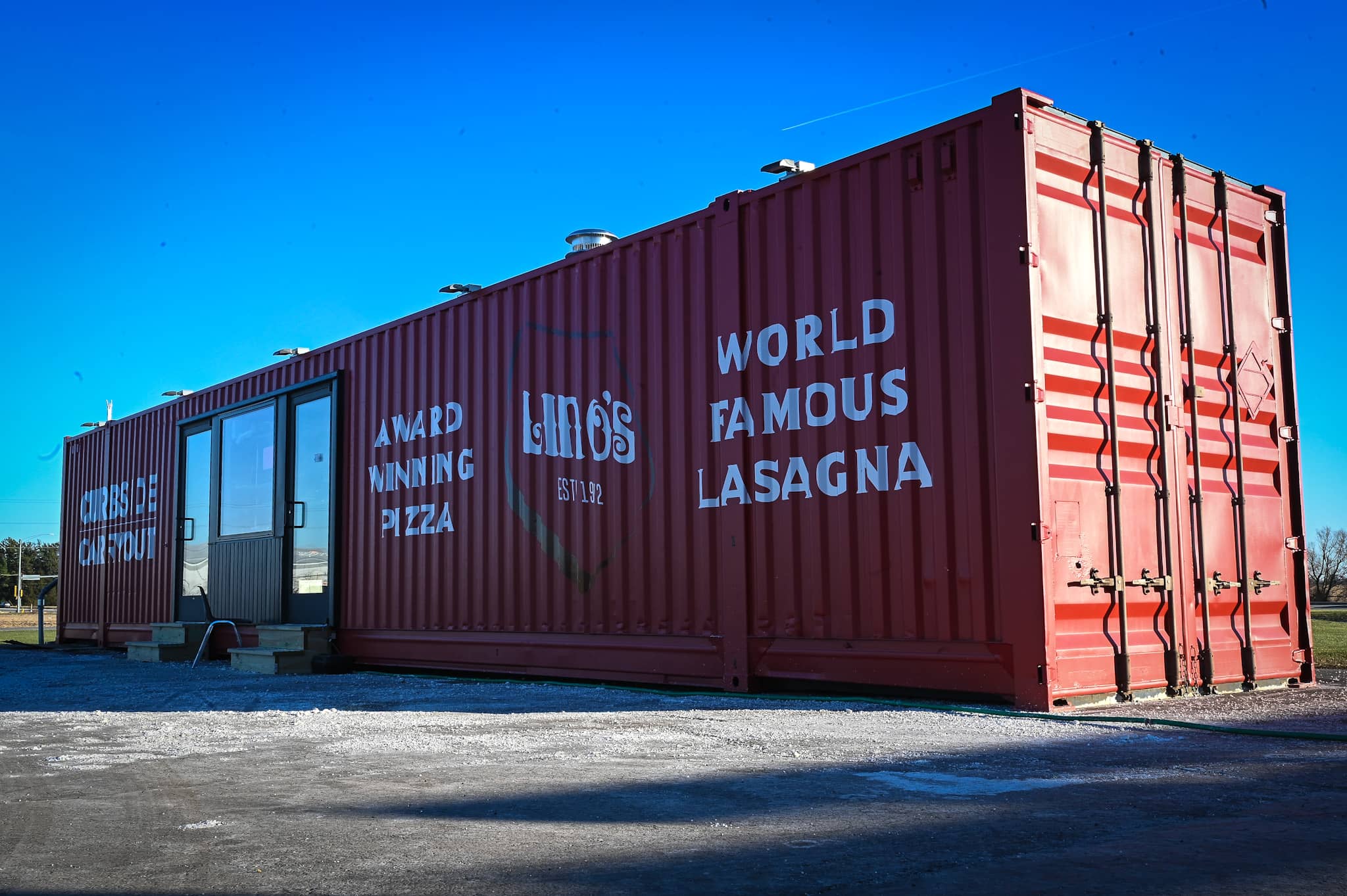 With the Fauld's oven inside, Lino's can offer almost everything it has on its menu in Rockford. The only exceptions are that the curbside spot doesn't offer steak, grilled chicken or veal or chicken gourmet. But you can still get all the pizza, pasta, spaghetti, mostaccioli, lasagna, ravioli, eggplant and chicken Parmesan, fettuccine Alfredo, fried fish and other items the restaurant is known for.
"I'm very confident that you'll get the same product," Schweinler said.
He said the shipping container can also be moved almost anywhere in Winnebago County, although Rockford's rules don't allow for it to be setup in the city. That will provide Lino's the opportunity to pick up the restaurant and take it to businesses for corporate events or parties, although it's most often going rest at its home on Riverside Boulevard.
Know before you go | Lino's curbside
Where: 8410 E. Riverside Blvd., Loves Park
Hours: 4:30 p.m. to 8 p.m. Tuesday through Thursday; 4:30 p.m. to 9 p.m. Friday and Saturday
How to order: Order online at linos815.com/curb
---
This article is by Kevin Haas. Email him at khaas@rockrivercurrent.com or follow him on Twitter at @KevinMHaas.