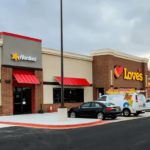 It was an exciting day on Rockford's south side when Love's, a national gas station chain, opened their first Travel Stop in Rockford on South Main Street at the Highway 20 Bypass.
The store will be open 24 hours a day and house a Hardee's restaurant. In addition, the store will feature laundry facilities, showers, a Mobile To Go Zone featuring the latest electronics, a dog park, and other amenities.
The company also made a $2,ooo donation to the Winnebago County Sheriff's Department K-9 Unit as part of their official grand opening on Thursday.