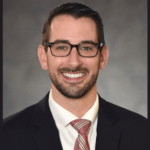 Girl Scouts of Northern Illinois (GSNI) announced today that Rockford Mayor Tom McNamara has signed on to rappel 8 stories down the historic SupplyCore building in downtown Rockford on June 5 in support of local Girl Scouts through the organization's Over the Edge 4 Girl Scouts urban fundraising adventure. This event raises funds to provide the time-honored and proven Girl Scout Leadership Experience to girls who may face financial barriers to participation and programs.
"Girl Scouts of Northern Illinois has a long history of empowering young people in our community and growing the next generation of thinkers, leaders and doers," says Mayor Tom McNamara. "I'm excited to support this unique event and looking forward to going over the edge!"
Mayor McNamara has also issued a challenge to mayors of surrounding communities to support Girl Scouts and have their constituents send them over the edge! To make a donation to send Mayor McNamara Over the Edge and help more girls become leaders of tomorrow, visit www.overtheedgegsni.com/mayor-mcnamara.
Mayor McNamara joins notable Girl Scout alum and NIU President Dr. Lisa Freeman in rappelling for the event while Karen Layng, National Board President of Girl Scouts of the USA, will be in attendance as a special guest!
Limited to the first 92 participants, individuals, ages 11 and older, raise proceeds through peer-to-peer and DIY fundraising with GSNI's fundraising toolkit and specially designed website! "Edgers" raise $1,000 to go Over the Edge 4 Girl Scouts. Employees can raise $1,000 to "Toss the Boss" and send someone over the edge, while area police and fire departments can challenge each other to see who can send the most people over the edge!
Girl Scouts of Northern Illinois are confident they can safely hold this outdoor event while strictly following all COVID-19 safety policies. Visit www.girlscoutsni.org/ote for more information about this unique fundraising event or to sign up.
Proceeds from the event aid local girls who may face financial barriers to fully participating in Girl Scouts. Funds raised will support leaders in areas where volunteers are not always readily available, such as community centers or housing authorities. Girl Scouts of Northern Illinois is committed to providing every interested girl and her family access to the lifelong benefits and skills found only in the Girl Scout Leadership Experience.
For more information on Over the Edge 4 Girl Scouts or to donate or volunteer with GSNI, please contact 1-844-476-4463 or customercare@girlscoutsni.org.