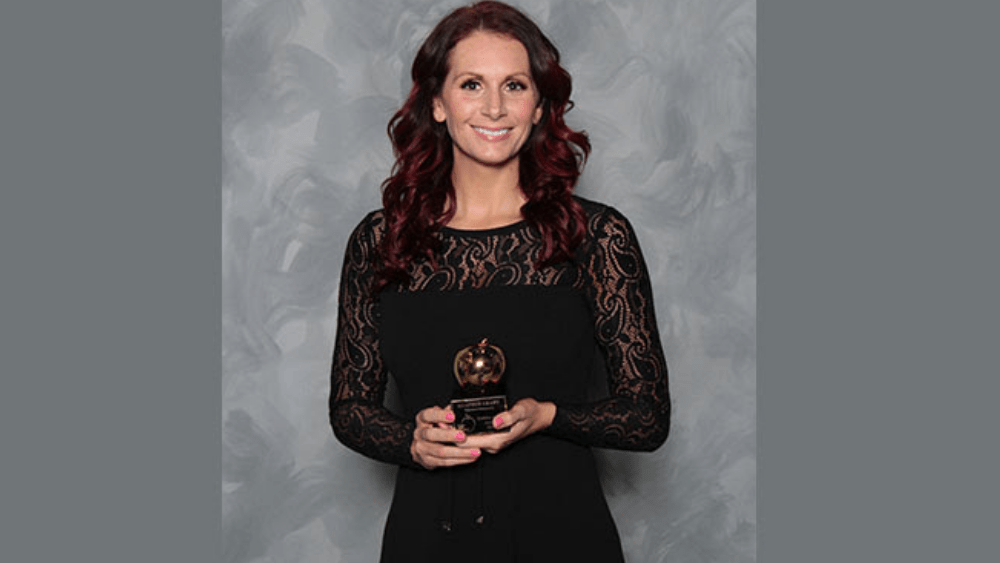 Heather Geary of Loves Park has taught multiple subjects at Lincoln Middle School for nine years, but she's been at Whitehead Elementary for the past six years, teaching first fifth grade, now fourth.
Each day, Heather starts class with a morning meeting which includes sharing, an activity, and a message. She ends class with a closing circle to reflect on the day and what was learned. Heather endeavors to help her students feel secure, while also challenging them to set their own goals to achieve success. She lets them know that "it is okay to not know the answer; however, we take what we do know to figure out the unknown."
A Golden Apple classroom observer was impressed that, "she participated in, not led, a group discussion on how to arrive at the correct answer." Heather encourages students in her classes to act as a community and have educational conversations with each other, as it "enhances all student learning." A second classroom observer enjoyed seeing students applaud their classmates' success. Heather encourages students to work hard and act responsibly to help "shape them into citizens that will benefit the greater good of society." Since students vary in academic, emotional and economic levels, she uses differentiated instruction based on MAP data to meet academic needs, makes accommodations for students based on IEPs, and uses the Responsive Classroom techniques including positive discipline and logical consequences.
Another observer shared, "The best-managed classroom I have ever seen. Used yoga techniques to center students. I'd want to have my kids in her classroom." Upon receiving her Golden Apple, Heather said that she strives to improve her skills every year and she participated in the GA process for her students and because of what they shared in their nominations. Here is one of those student nominations that demonstrated the admiration Heather's students feel for her: "Mrs. Geary is the best math teacher. I think she should get the Golden Apple because people really get her math and understand her."