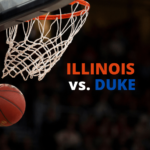 Last time out the 6th ranked Fighting Illini fell to 2nd ranked Baylor. The biggest problem for the Illini in that game was their inability in the 2nd half to change the momentum of the game. When Baylor would go on a run the Illini struggled to find an answer. Last night however at Cameron Indoor Stadium it was the Illini who had all the answers.
The Illini came out with a purpose against 10th ranked Duke as newcomer Adam Miller hit a couple of 3's early to give the Illini momentum. Defensively the Illini were all over Duke leading scorer Matthew Hurt. Every shot for Hurt was a contested one and it took Duke out of their rhythm offensively. While Hurt did eventually get to his average of 19pts he did not hit a single 3 pointer going 0 for 6 from deep. In fact as a team the Blue Devils were just 5-22 from 3 pt range for the game.
Anytime Duke would try to creep back into the game the Illini would go on a mini run to extend the lead back to comfortable amount. It wasn't just one person leading the way for the Illini either. Yes Ayo Donsunmu led the way with 18pts, but the Illini did have 6 players in double figures and a 7th who had 9pts. It was a balanced effort throughout. There were however some teaching moments for Coach Brad Underwood because at times the Illini played too fast and made some ill advised turnovers.
Overall the Illini did something they hadn't done since 1995, win at Duke. The Illini also announced to the nation that this year will be different and that come tourney time they will be a force to be reckoned with.