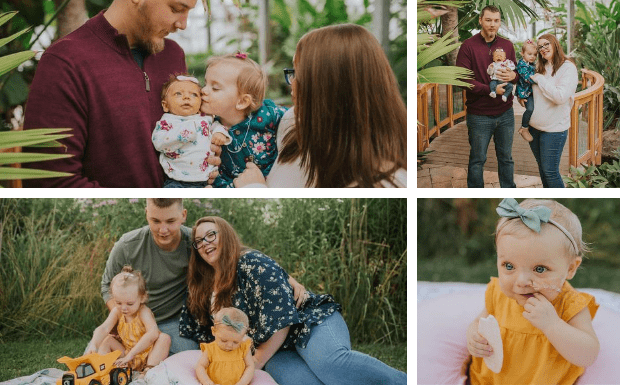 In 2020, people around the world are dealing with the pandemic. However, for one little girl, all she knows are the walls inside Lurie Children's Hospital in Chicago.
Elizabeth "Lizzie" Kyser was born last year on the 2nd of October and was diagnosed with liver failure and Neonatal Cholestasis at just 5 days old. Neonatal Cholestasis is often used to refer to a cholestatic liver disease that is present at birth and/or develops within the first few months of life.
She had her first life-saving surgery, a Kasai procedure, that officially diagnosed Lizzie with Biliary Atresia at 6 weeks and 7 days old. Her liver function was restored immediately and that surgery went on to be successful for a full 6 months. Until May 28th when Elizabeth was admitted to Lurie Children's in Chicago for the first time since her surgery for an infection called "Cholangitis" which affects her liver and bowels.
Unfortunately, things have only gone down from there. Not even a full 2 weeks after her surgery, it was deemed a failure. She is now in need of a life-saving liver transplant. She has spent the last 10 weeks in and out of the hospital and was officially placed on the liver waiting list with UNOS on July 8th, 2020.
Her Dad, Chris Kyser, is currently testing to be her living donor. If they are a match, Lizzie is expected to be transplanted by the end of August. She went from being a healthy baby to needing a liver transplant in just a matter of weeks.
"It was something our family was not expecting and definitely not prepared for," says Kailey, Lizzie's Mom, "She has potential donors being worked up, and because of insurance, we can't test anyone else right now."
We asked Kailey what it's like to be dealing with this pandemic and also having a sick child in the hospital,  she answered, "It's Heartbreaking. Gut-wrenching. Soul crushing…and that doesn't even scratch the surface. But here I am, reaching out to strangers, asking them to care and pray for a baby that they have never even met. Because that baby is my whole entire world."
In order to help with all of the costs associated with the transplant (medical bills, travel, time off of work) the Kyser's will be holding a "Liver for Lizzie" benefit on August 29th at the Loves Park VFW from 1 pm-6 pm.
You can find more information on Elizabeth's Facebook page or contact Kailey Kyser (Elizabeth's mom) at 815-262-5072.
They will also be holding an online T-shirt fundraiser. If you would like to help the Kyser Family, please visit Lizzie's Facebook page.
You can also help out Lizzie and others who are awaiting a donor by visiting: