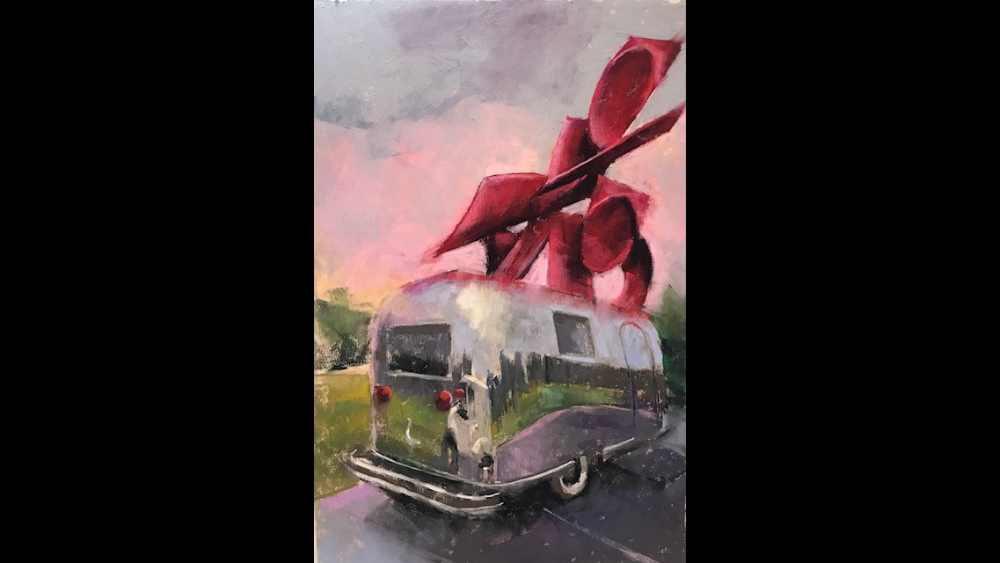 ROCKFORD — The city's most recognizable piece of public art is celebrated at a new exhibit centered around Symbol's iconic color.
Kortman Gallery, 107 N. Main St., invited 25 local artists to create a piece utilizing Liberman Red, sometimes called vermilion red, to celebrate the 45th anniversary of the 47-foot tall sculpture along the Rock River. Artists were asked to use the authentic color, but they didn't have to incorporate the sculpture itself.
"I was intrigued about the theme of the show that is just about a color," said John Deill, one of the featured artists in the exhibition. "Color can be both captivating and controversial, since everyone perceives colors differently. For instance, some people see Symbol as red, while others see it as more orange. However, there is no right or wrong when it comes to perception."
The opening reception for the "Liberman Red" exhibit is from 5:30 p.m. to 9 p.m. Friday upstairs in the Kortman Gallery, 107 N. Main St., in downtown. The exhibit will run through Jan. 13.
Alexander Liberman, whose paintings and sculptures are in collections and public places around the world, designed Symbol specifically for Rockford. The 30-ton work of art was installed at State and Wyman streets in 1978. It moved to its current location along the Rock River south of the Auburn Street bridge in 1984.
"Rather than have the exhibit specifically about Symbol, we thought we would not limit the subject matter to an object, but more of a concept, and the color red is in itself engaging, if not exciting," Doc Slafkosky, gallery director, said in a news release. "And Liberman used the color boldly, and often in his art. And he did have a specific formula for his 'red'."
This summer Symbol got a fresh coat of paint for the first time in a decade. The Rockford Park District, which is responsible for maintaining the sculpture, worked with metal expert Dick Behr to match the original paint color.
"We thought it would interesting to let each artist create a piece of work that presents their interpretation of what Liberman Red looks like, with no restrictions on the imagery," Slafkosky said. "Consequently, the artists did not have to include images of Symbol in their art work, just the color, Liberman Red.
"The result is a fascinating exhibition that confirms the amazing creativity and vision that each of these remarkable artists brings to this must see show."
Know before you go | Liberman Red
Opening reception: 5:30 p.m. to 9 p.m. Friday, Nov. 17
Where: J.R. Kortman Center for Design & Kortman Gallery, 107 N. Main St., Rockford
Hours: 11 a.m. to 6 p.m. Tuesday through Friday; 11 a.m. to 5 p.m. Saturday
Information: jrkortman.com or phone 815-968-0123.
The artists: Stephen Warde Anderson, Molly Carter, John Deill, Michelle Dorr, Drew Eurek, Fatherless, Laura Gomel, Brian Hierstein, Margret Hynes, Javier Jimenez, Lisa Jimenez, Carrie Johnson, Jeremy Klonicki, Norm Knott, R. Scott Long, Jenny Mathews, Nancie King Mertz, Valerie Olafson, Rebecca Downing Pelley, Nick Cashmere, Joe Tallman, Carmen Turner, Alison Weust, Brett Whitacre and Kyle Wolfe.
---
This article is by Kevin Haas. Email him at khaas@rockrivercurrent.com or follow him on X at @KevinMHaas or Instagram @thekevinhaas and Threads @thekevinhaas