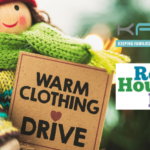 This holiday season is unlike any other.  In order to meet the needs of our community, Club Blue Rockford has partnered with two incredible local businesses to support children in need during this unprecedented time.  For the entire month of November, 510 Threads and Eurostyle will be collecting boots and warm winter items for Rock House Kids.  BJones will partner with the girls of KFACT and collect new pajamas, slippers and $10 gift cards, all to make kids' holidays shine a bit brighter.
While Club Blue's in-person fundraising events have been cancelled, their promise to assist these wonderful local organizations remains. Will you help them?
It's amazing what can happen when we work together. Thank you helping Club Blue and local business partners meet the needs of children in our community.