Shoeboxes For Soldiers 2022: Start Your Soldier Care Package!
95.3 The Bull's Shoeboxes For Soldiers is back for our 2022 campaign – presented by Anderson Dodge Chrysler Jeep Ram and Randy Palmeri & Son Contracting!
We've teamed-up with Operation Shoebox to send care package boxes stuffed-full of life's essentials to our brave men and women of the armed forces, currently serving around the world in all capacities! Details below on how you can build your own care package box, donate items to fill the boxes, or to sponsor a full box through our secure PayPal link below and we'll build the box for you! Special thanks to our generous local campaign partners The Postal Shoppe, Eldridge Roofing, Jax Pub, Straightline Moving, and Oscar's Pub & Grill!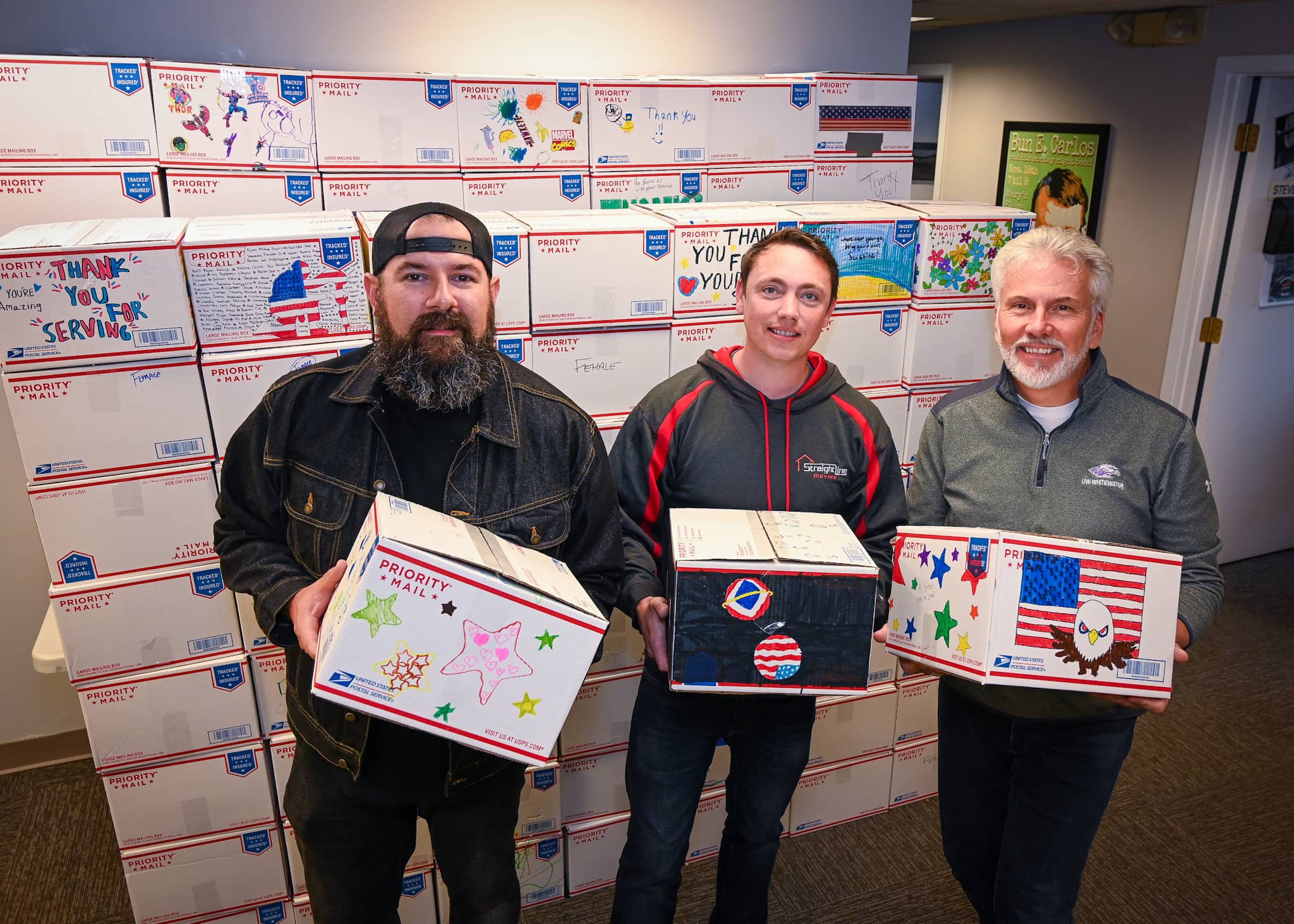 HERE'S HOW YOU CAN HELP: Pick up a free box at either location of The Postal Shoppe (Perryville Rd or in the Edgebrook Shopping Center),  from the 95.3 The Bull studios, or one of the Box pick-up events and fill it with items from the list below by yourself, with your friends & family, your co-workers, your class, your team, your scout troop, etc! Once it's ready, just return it (unsealed) to 95.3 The Bull  or at any of the drop-off locations below by Friday, May 27th (3pm) and we'll handle the rest!
Online Donation Options:
$5.00 – Snack Sponsor
$10.00 – Toiletries Sponsor
$15.00 – Game/Entertainment Sponsor
$25.00 – Standard Shoebox of Essentials
$50.00 – Standard Shoebox Plus Shipping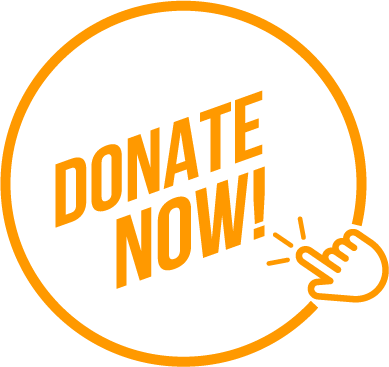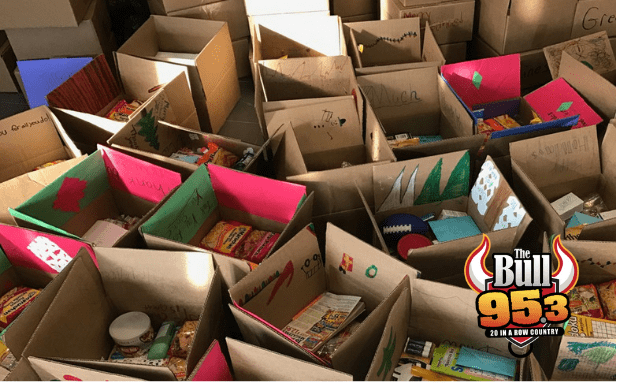 ITEMS THAT CAN BE INCLUDED: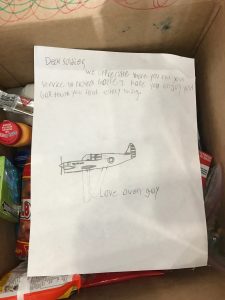 Healthcare: Body lotion, Toothbrush, Tooth paste, Contact Lens Solution, Band-Aids, Surgical tape, Gauze, Tylenol, Tums, Allergy/Cold medicine, Gold Bond Foot/Body Powder, Lotriman Ultra, baby wipes, sun block, Chapstick, Deodorant, Razors, Eye-Drops, Bengay, Icy Hot, Q-Tips, Feminine Hygiene products. NO GLASS OR AEROSOL PER POSTAL REGULATIONS
Snacks: Beef Jerky, Dried fruit, Pop-Tarts, Hard candy, Mixed nuts, Granola Bars, Fruit Roll-ups, Rame Noodles, Tuna (sealed in a pouch), Gum, Mints, Powdered Drink Mixes, Nonperishable Food Items. NO GLASS, HOMEMADE ITEMS, OR PORK PRODUCTS PER CUSTOMS REGULATIONS
Morale & Supply: AA & AAA batteries, Board Games, Word-Search/Crossword/Sudoku puzzle books, Puzzles, CD's, DVD's, Pens & Pencils, Handheld electronic games, Duct tape, Electrical Tape, Super Glue, Flip-Flops, White Socks, Army Green Socks, Hats, Gloves, Blankets.
Including a simple "Thank You" card in the box or a personal letter showing your gratitude is a great way to let our troops know we are thinking about them and appreciate their service.
In addition, we're looking for extra items to put inside boxes that might need an extra item or two. You can drop those donation items at the 95.3 The Bull studios (Mon-Fri, 10a-3P), 2830 Sandy Hollow Rd in Rockford.
DROP OFF YOUR BOXES / DONATIONS AT ANY OF THESE LOCATIONS:
The Postal Shoppe – 2205 S. Perryville Rd, Rockford
The Postal Shoppe – 1643 N. Alpine Rd, Rockford
Anderson Dodge – 5711 E. State St, Rockford
Jax Pub – 4160 N. Perryville, Loves Park
Oscar's Pub & Grill – 5980 East State Street, Rockford
Napleton Subaru – 505 N. Perryville Rd, Rockford
Gustafson's Furniture & Mattress – 6651 E. State St, Rockford