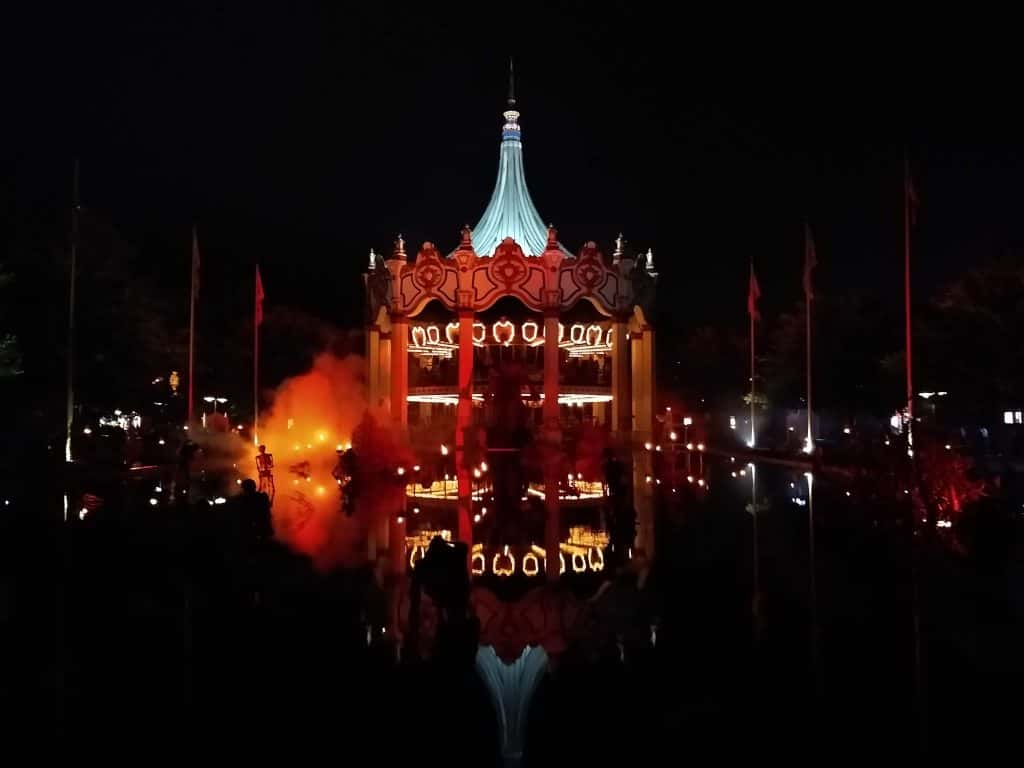 It's that time of year again! The temps are cooler, the leaves are turning, and that Giant orange "Fright Fest" flag is flying over Six Flags Great America in Gurnee…and I got my scare on!
(TL:DR synopsis – GO TO FRIGHT FEST YA DUMMY!!!)
It starts as you stroll up to the park entrance prepared for a fun day of coasters and rides…
"WARNING! After 6 pm we will show NO MERCY!!!"
Yeah…plenty of those kinds of signs warning that once the sun goes down the creatures of the night come out to play! And boy do they! Clowns straight out of your nightmares, Vampires feeding on fresh victims, Scarecrows hop off their posts, deep woods zombies, and apocalyptic wasteland survivors wielding chainsaws from every angle!
Just as a word of caution…they mean no mercy. Those hardworking scareactors WILL chase you, WILL taunt you, and will show NO MERCY. So if you're one of those "Leave me alone, I don't like this, you're going too farrrrrrr…*whiny whiny* I want to talk to your supervisor" types… please stay home. Fright Fest is meant to be a time for you to be scared and have those nightmares you don't tell other people about come to life!
Speaking of those nightmares: HAUNTED HOUSES!!! Fright Fest has 6 different walk-through mazes including 2 brand new ones! And some favorite haunts return as well. Full disclosure: If you want to experience every last scare you're going to have to shell out for the Haunted House Wristband. And get the good one that lets you skip the lines all night! You get more scares this way on a Saturday night. Or if you know you're going to make multiple Fright Fest visits over the month…spring for the All Season Haunted House Pass #WorthIt.
Fright Fest 2019 Haunted Houses
I will tell you this as a means of not spoiling each house for you but still trying to tell you it's worth every cent and second: These are some of the best houses your going to find in the Midwest. All 6 houses have a unique storyline (Yes haunted houses can have storylines…). One is about a secret society that's taken over a town, One about a laboratory researching stuff they shouldn't, you'll visit the underworld itself, and that nightmare circus you keep dreaming about…
If i'm completely honest the scariest thing of all at Fright Fest is the invasion…of Pumpkin Spice! They have some specialty foods available only during Fright Fest including a Pumpkin Spice Funnel Cake Sundae! The scariest thing is how tasty it is! Also…they do have some pretty baller hot chocolate for when it gets chilly. And nothing soothes the post haunted house soul like some hot chocolate.
Lest you think it's all terror around every corner there are some reprieves along the way including the Fright Fest Classic – "Love at First Fright!" This family friendly show follows Jack and Katie on a dare to spend the night in a graveyard…and hilarity and frights ensue! You'll sing along…oh yes you will! Especially when we do the time warp again! This show has been running since the very first Fright Fest in 1991. Making it, I would assume, the longest running theme park show featuring live actors in history, and I would submit it might be considered the longest running stage production in history as well…I have NO fact checkers so…I stand by it till I'm corrected.
View this post on Instagram
I'll wrap this up by repeating the TL:DR synopsis…GO TO FRIGHT FEST YA DUMMY!!! It's scary, it's fun, it's scary-fun! I do recommend doing the full Saturday if you want the full experience. It's what I did. Or if all you want is to tour those nightmare factory haunted houses hit up a Friday night. There is going to be a kinda Fright Fest Lite option on Columbus Day (10/14). I think the park is open but there are no haunted houses, scareactors, or shows…if you want kinda the generic fright fest experience.
Buy your tickets to Six Flags HERE and have a FRIGHTfully good time…muwahahahahahhahaha
-AverageJoe livin' in the 815