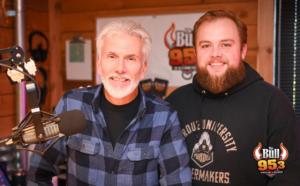 The Morning Stampede with Steve Summers and Ryan Sartori
November 22
6:00 Hour
– We started our day reminiscing on how much fun we had discussing pies with the whole office yesterday
-We caught up with Kevin Hass from Rock River Current on over night news from the stateline as well as sports, traffic and weather.
–Bull Bar Bingo has a new date and time for Thanksgiving week! Find Chelsea Meyer and Ryan Sartori at Baseball Tap in Cherry Valley Wednesday night from 5:30 – 7:30pm.
7:00 Hour
-We tested Steve on his Thanksgiving knowledge with some holiday-themed trivia questions.
-We gave out another key word so you could win tickets to see Brantley Gilbert and 5 Finger Death Punch at the Alliant Energy Center in Madison on December 2nd.
-After the great pie debate from Monday, Steve's wife, Yvonne, made pumpkin squares and we did a live taste test.  The nutmeg was a nice touch, Yvonne!
8:00 Hour
-With the 33rd annual Festival of Lights coming up on Friday, we caught up with Ted O'Donnell on what you can expect to see at the festival this year. The fun starts at Sinnissippi Park kicks off at 5PM on the 25th.
– News and Sports updates
Today's Player: Mark from Rockford – Too High
9:00 Hour
– It's the last call to win a $200 Visa gift card just for telling us what you're thankful for this year! Head to thebullrockford.com to tell us what you're thankful for before the end of the day!
– Huge Thanksgiving show coming tomorrow!
Best of the Day: