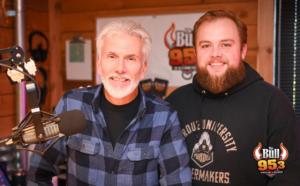 The Morning Stampede with Steve Summers and Ryan Sartori
November 23
6:00 Hour
– Bull Bar Bingo is TONIGHT at Baseball Tap from 5:30 – 7:30.  Not only do you have a chance at winning cash and tickets, WERE GIVING AWAY TURKEYS, BABY!
Chelsea Meyer and Ryan Sartori host
– Kevin Haas from Rock River Current gives us three things to know from his news room and we catch up on sports, weather and traffic in the stateline.
–A study of 2,000 people done by Mattress Firm lists the most annoying things visitors do in your home.
Arrive unannounced or without an invitation 49%
Snoop around 48%
Break/damage host's belongings 48%
Leave a mess when departing 45%
Be too loud 45%
Smoke 44%
Leave a mess in the bathroom 40%
Stay up all night watching TV with volume up high 39%
Come back drunk 39%
Be too demanding 39%
7:00 Hour
-We gave the Butterball Hotline a call to help answer your turkey related questions a little early this year. Have your own questions? 1-800-BUTTERBALL is the number to call.
-We gave you a chance to see Brantley Gilbert and 5 Finger Death Punch on December 2nd in Madison.
– We can't just give you one side of the story, so we gave ole Jenny-O a call to see what questions their turkey experts could answer. 1-800-TURKEYS
8:00 Hour
– What are Steve and Ryan doing for our Thanksgivings? Well… Ryan has 4 Thanksgivings to attend in 3 different towns while Steve two celebrations as far away as Milwaukee. Yay us.
– Our friend Thomas Gomez stops by for Wheelin' Wednesdays to talk about who might be voted NASCAR's most popular driver.
-Bullseye Free Money Game
Todays player: Doreen from South Beloit – BULLSEYE!! Doreen wins jackpot #161 which was $293.
9:00 Hour
-Lauren Davis from Winnebago Buy Local Committee stops buy to inform us on how we can be better buyers of local product.
-Rockford Mayor Thomas McNamara stopped by to share his thoughts on Thanksgiving.