I'm still crazy after all these years! Waking up at 3:30 am is crazy, but I'm crazy about working in radio. As an incoming freshman at the University of Wisconsin-Whitewater, I walked into the college radio station and knew instantly that radio was what I wanted, needed to do.  If you haven't noticed I am outgoing, and blessed with a great family with deep Rockford roots.
I met my wife, Yvonne on a blind date and never left Rockford, I am a die hard Chicago Cubs fan, Chicago Bears fan, Chicago Blackhawks fan, and yes, a Chicago Bulls fan.  I do love the Rockford Ice Hogs and a good cup of Dunkin' Donuts coffee everyday.
I love helping out local charities such as GiGi's Playhouse for Down Syndrome, The Rockford Salvation Army, March of Dimes Rockford, Rock River Valley Food Pantry, and many more.  I also currently serve on the National Radio Advisory Board for St Jude Children's Research Hospital.  Safe to say I find it hard to say no to local organizations, and to those who are in need.
I have three lovely daughters and two crazy dogs.  Gunnar is a Chocolate lab and Greta a Black Lab with more energy than the Byron Nuke Plant.
Call anytime and let's catch up.  Thanks for listening to Steve Summers and The Morning Stampede every morning from 
5:30 am till 10:00 am
.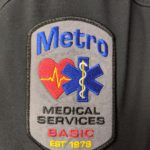 Each week, 95.3 The BULL teams up with First Class General Contracting to salute and say "thank you" to our amazing First Responders in...
Read More