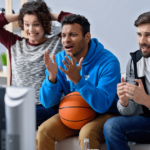 It is Conference Championship Weekend in College Football with wall to wall conference title games. In the Big Ten 4thranked Ohio State takes on 14th ranked Northwestern. That one is an 11am kickoff. Also kicking off at 11a is the Big 12 Title game pitting 6th ranked Iowa State vs 10th ranked Oklahoma. At 3p CT it is the ACC Championship game featuring a rematch between #2 Notre Dame and #3 Clemson. The Irish won the first meeting between the two teams in OT 47-40 in South Bend. Clemson's all American QB Trevor Lawrence did not play in that game due to Covid, he is back for this one however. The Mountain West has their title game at 3:30p CT as San Jose State takes on Boise State. Saturday night at 7p you have the American Athletic Conference title game between Cincinnati and Tulsa and the SEC title game featuring #1 Alabama and #7 Florida. The final College Football Playoff Rankings will be released Sunday at 11a CT on ESPN.
College Basketball also has some Marquis matchups this weekend. On Saturday led by #1 Gonzaga taking on #3 Iowa. For the Zags it is their first game back since they shut down the program for 2 weeks due to a Covid outbreak. Tip off for the Zags and Hawkeyes is 11a Saturday. Also on Saturday 12th ranked Wisconsin takes on 23rd ranked Louisville and unranked Kentucky battles 22nd ranked North Carolina. Sunday sees the 13th ranked Fighting Illini on the road at 19th ranked Rutgers, tip off at noon CT.
The NFL has some action on both Saturday and Sunday this week. Saturday afternoon is the Buffalo Bills vs the Denver Broncos and on Saturday night it is the Green Bay Packers taking on the Carolina Panthers. Sunday the Chicago Bears try to keep their playoff hopes alive as they travel to Minnesota to take on the Vikings in noon kickoff. Other Sunday matchups include the New Orleans Saints hosting the Kansas City Chiefs and the Miami Dolphins hosting the New England Patriots. The Sunday night football tilt features the Cleveland Browns vs the New York Giants.