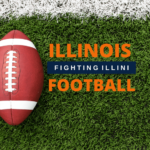 The University of Illinois made the decision yesterday to move on from former
Chicago Bears Coach Lovie Smith as their head football coach. Smith was
supposed to bring back respectability to the program and make the Illini more of
a contender in the Big Ten; instead what Smith brought was pro experience that
didn't translate into college success. Smith's 17-39 career record was evidence of
that. So, what's next for Fighting Illini Football? Here are some possible
candidates to be the next head man at U of I.
If the Illini want to go big there is Cincinnati's Luke Fickell. Fickell currently has the
Bearcats undefeated and ranked 7 th in the nation. In fact Fickell has a 34-13 record
in four seasons at Cincinnati. The question is, is the Illinois job a high profile
enough job for Fickell to leave what he has built at Cincinnati. While Cincinnati is
not in a power 5 conference they still have been a part of the national discussion.
Fickell no doubt will have his share of suitors, would he choose Illinois as his
landing place.
Another hot name out there is that of Buffalo University head coach Lance
Leipold. While this wouldn't have the sizzle that a Fickell hiring would have,
Leipold has shown he can win at various levels. Buffalo is 5-0 this season and a 36-
32 record in his 6 seasons at the helm. Leipold also went 109-6 in his career at
Division III Wisconsin-Whitewater.
If you want an Illinois connection Kent State Head Coach Sean Lewis is an Illinois
native. Lewis is just 12-17 in his career thus far but he has gone 10-7 the last 2
years after a 2-10 first season.
Of course the Illini could always wait and see what happens with current Chicago
Bears coach Matt Nagy. Although considering how Lovie worked out they may
want to scratch that idea.