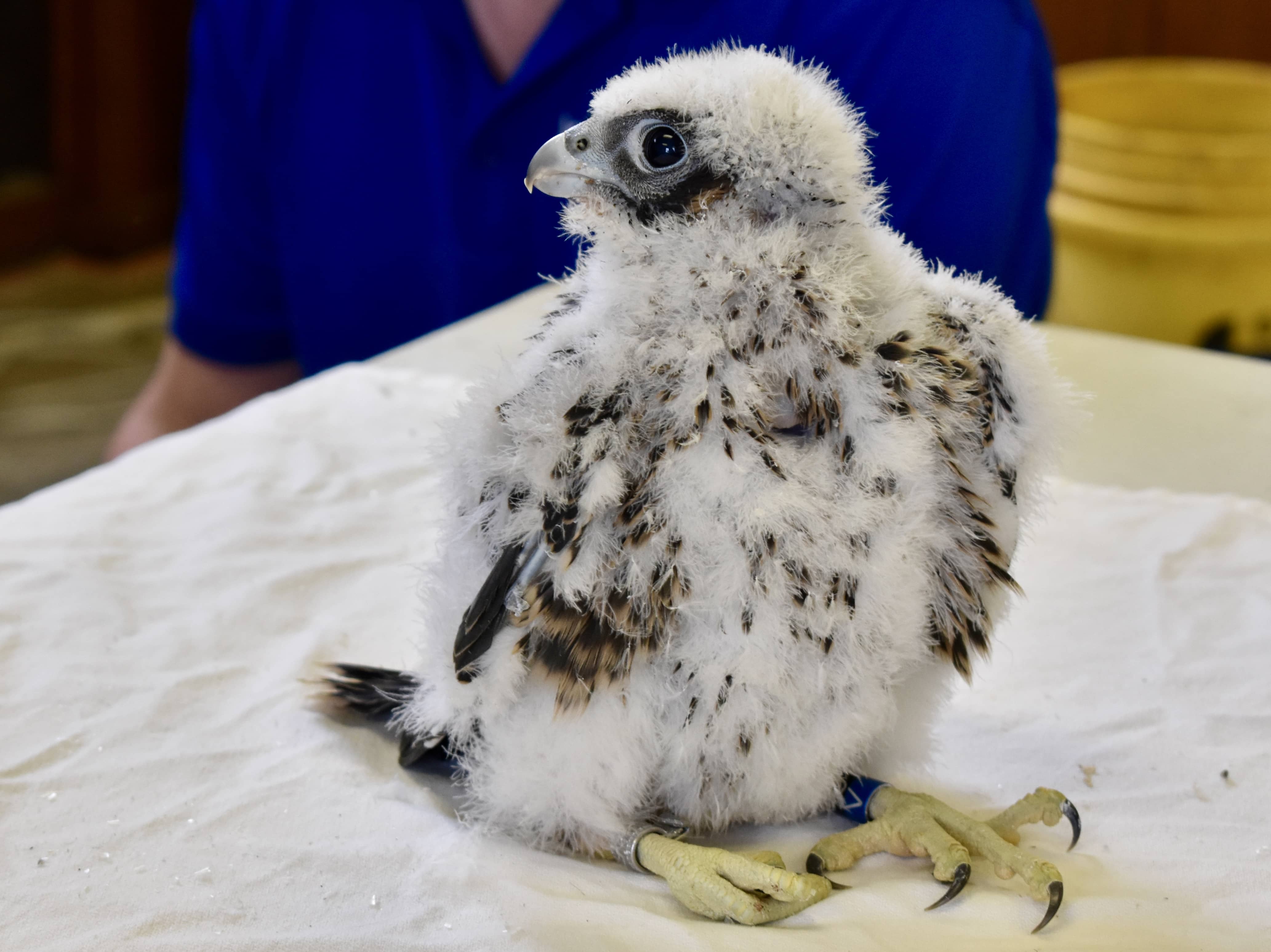 ROCKFORD — There are three new hatchlings of the city's official bird getting ready to fledge in the heart of downtown.
Peregrine falcon Louise and her mate, Brian, had four chicks hatch out of a clutch of five eggs laid outside the eighth floor of the Iconic Energy building, which is the former Register Star News Tower. One of the chicks, however, died during a cold, rainy weekend.
"Any raptor, their first year of life, their mortality rate is 60%," Jennifer Kuroda, president of the Sinnissippi Audubon Society, said of the once-endangered species. "Getting through that first year of life is a challenge for birds."
This week, Sinnissippi Audubon and the Chicago Peregrine Program banded the three chicks legs to help identify, monitor and study the falcons. The society also has a 24/7 livestream on the nest site that allows anyone to keep watch on the young birds of prey.
"Having these peregrines downtown has increased awareness about birds and their conservation needs," Kuroda said. "I think there's people who watch the camera who have never been a birder before, but hopefully Louise and the peregrines are spark birds for them and they get involved in birding."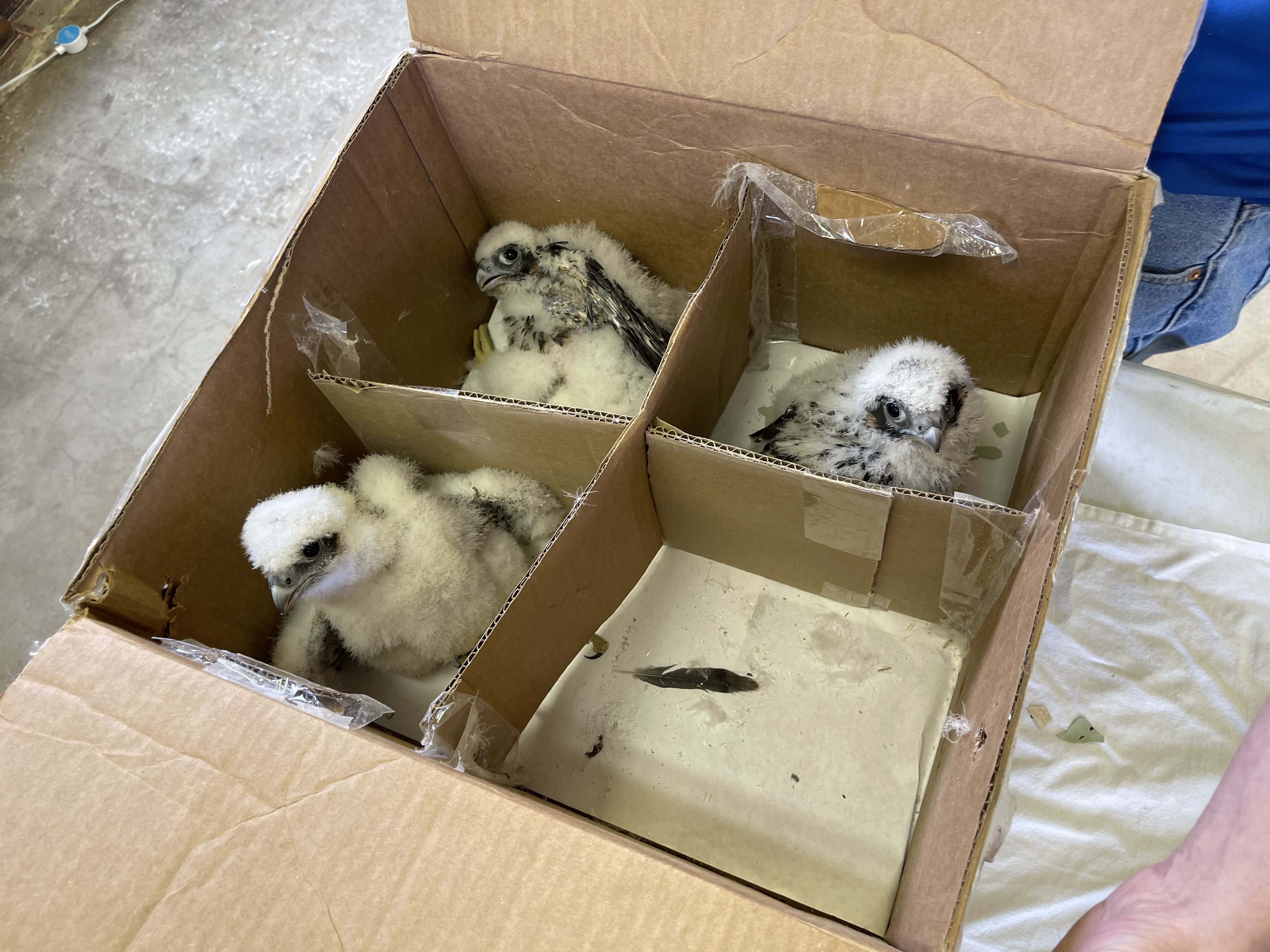 The chicks are covered with fluffy white down until that is replaced by feathers in roughly three weeks to a month.
Next up is flight, which Kuroda estimates is about two weeks away. Peregrines typically fledge — the name for those first fluttery flight attempts — roughly 40 days after hatching. Kuroda has pencilled in June 17 to keep watch for that.
"The males tend to fledge before females, and now that we have three males it could be a fast fledge watch this year," she said. "It's nature, so it could completely go the opposite direction."
Sinnissippi Audubon runs a volunteer program it calls fledge watch to make sure the young birds of prey don't flutter into harm's way while making their firsts flights in downtown.
"A lot of times on a first flight, it's not a successful flight," she said. "So we just want to make sure they don't land in the middle of the street."
Names pay tribute to Rockford people and places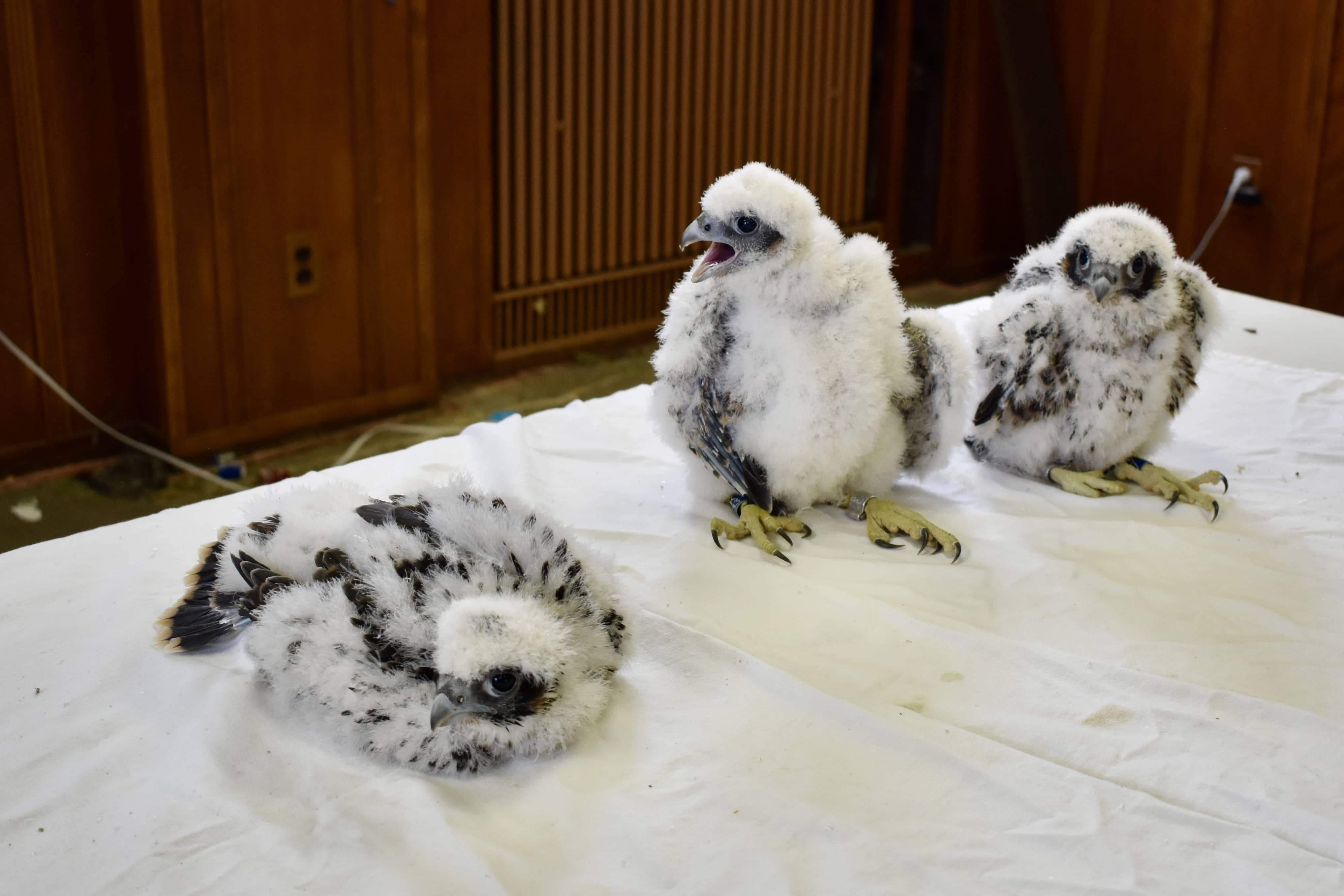 The three chicks were named as part of a contest and online voting run by Sinnissippi Audubon. The three names all pay tribute to Rockford places and people.
Iconic, or Ike for short, is named for the building where the peregrines nest. Iconic Energy bought the old News Tower from the Register Star in December 2021 and is working on plans to overhaul and renovate the historic building.
Nelson is named after the Nelson Knitting Factory, the Rockford business that once made the classic red heel socks.
George is named for George Fell, the founder of the Natural Land Institute who dedicated his life to protecting natural areas.
Returning to Rockford
Peregrine falcons, which are the fastest member of the animal kingdom, were once on the brink of extinction because of egg-thinning pollutants such as DDT, according to the National Parks Service.
They first arrived in Rockford in 2018 when Louise had a different mate. This is the sixth year she has returned to nest in downtown Rockford and her third made. She and Brian are the only known breeding pair of peregrine falcons in Winnebago County.
She has had 17 chicks total. Three so far have been found dead — Sweeney, Peaches and Jane — and Hope was injured and is being cared for at Hoo Haven, when plans to use the peregrine falcon as part of future education programs.
"It's nice to get the community involved and aware of these birds and birds in the urban environment so we can continue to protect them," Kuroda said.
---
Watch the falcons in Rockford
You can watch the Sinnissippi Audubon Society's Nest Cam atop the Iconic Energy building to see Louise and Brian and their three chicks here.
---
Volunteer for fledge watch
Sinnissippi Audubon Society runs fledge watch to keep the young birds out of harms way while they attempt their first flights. Volunteers take two-hour daily shifts from 7:30 a.m. to 8:30 p.m.
If you're interested in participating, email info@sinnissippiaudobon.org.
---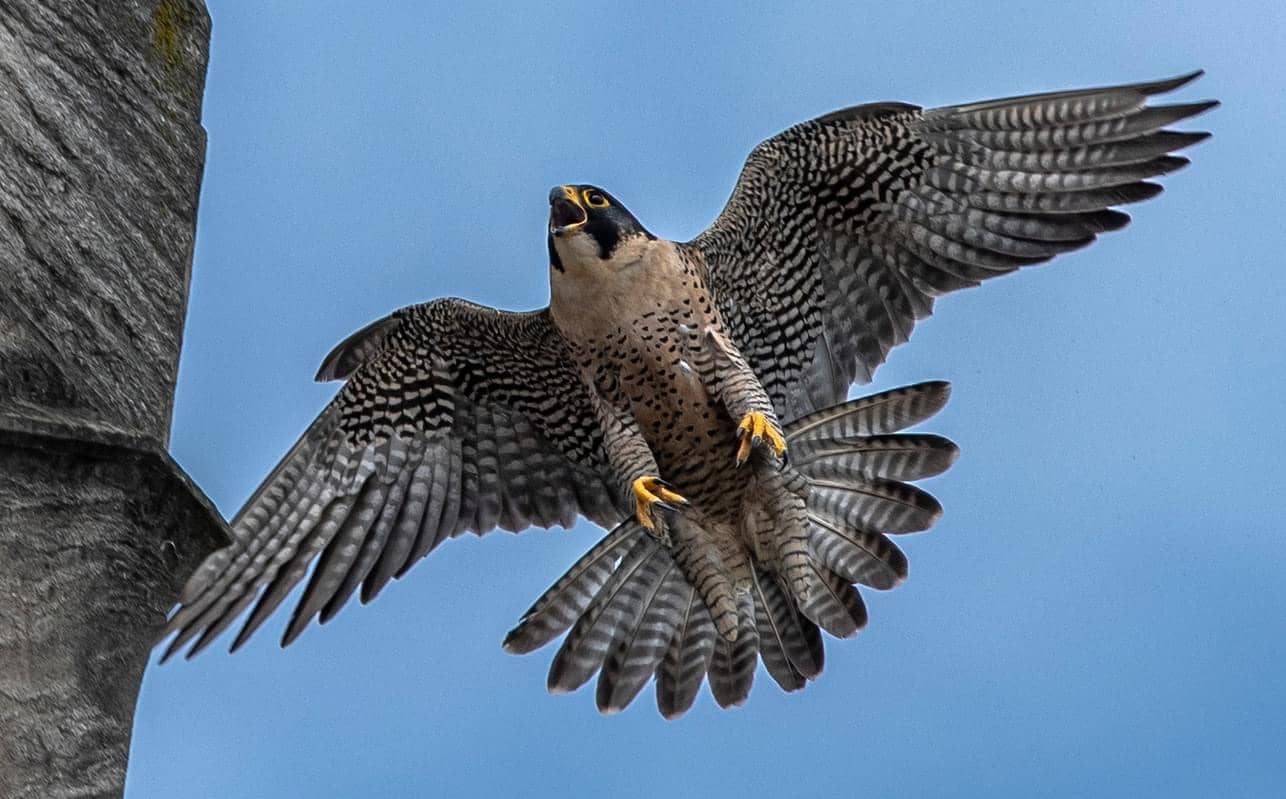 ---
This article is by Kevin Haas. Email him at khaas@rockrivercurrent.com or follow him on Twitter at @KevinMHaas or Instagram @thekevinhaas.