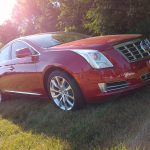 Win tickets to Dierks and I gotta say…I don't think I've wanted a car as much as I want this one…so you better beat me to it!
This weeks Bocker "Buy of the Week" is a S T E A L ! ! ! I mean first off it's a 2015 Caddy priced at UNDER $25,000 but is loaded up like it could go for more than DOUBLE! Heated steering wheel, vented seats, MASSIVE sunroof, amazing sound…AND TONS more…check out our walk around and you could win Dierks Bentley tickets as well…
And don't forget when this car sells some of the money goes right back to Noah's Ark Animal Sanctuary in Rockford!
If you want to get in touch with Bocker and their amazing team who want to be your dealership for life…get the full run down on this week's Buy of the Week HERE!
Oh…and in case you missed it. Watch that video again to find out how you score your tickets to Dierks Bentley!